I grew up in Augusta, Ga. My parents are still there. We have this little golf gathering each year during the first full week of April - perhaps you've heard of it - the Masters? I never realized just how incredibly spoiled I was - I lived about 1/2 a mile from the course, schools closed that week and everybody went to the course to see the tournament. The biggest names in golf rented houses on my street. For years, our traditional dinner for the Friday of Masters' week was to have Arnold and Winnie Palmer over for dinner - no biggie, right? Nancy Lopez and her husband stayed with us one year - awesome!
So...I go off to school in the "big city" - Atlanta. Spring Break is not - gasp - in April but the end of February - what?? We actually have classes and tests during Masters' Week - WHAT??
Needless to say, my attendance during that week in April was a tad sparse.....and I was headed east on Interstate-20. Often, Masters' Sunday is also Easter Sunday - kinda cool when my two of my favorite things get combined! It is cool when the players witness their faith when interviewed. Bernhard Langer gave a moving testimony one Easter/Masters Sunday when he won the tournament - talk about grace under pressure - you've just won the most prestigious golf tournament in the world, you're about to get the coveted Green Jacket, and you take time out to give thanks to the One who made it all possible...very cool.
So - Easter has a special place for me and I love creating LOs with Easter pictures - here's one of my favorites: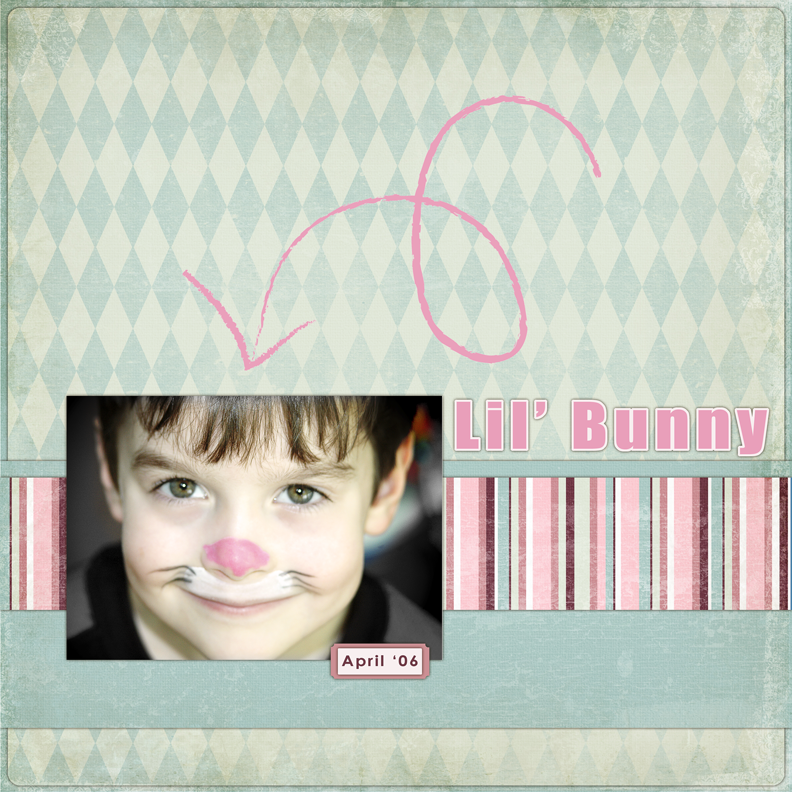 We had gone to 103 West (one of my fave Atlanta restaurants) for Easter brunch and Zane got his face painted - cute little bunny! Don't you just love the fun arrow? That is the brainchild of my dear friend, Liv Esteban - her collections of fun doodled arrows is available Monday at
JessicaSprague.com
- go check it out!
Hope you & yours have a blessed & joyous Easter - look for me at Amen Corner!